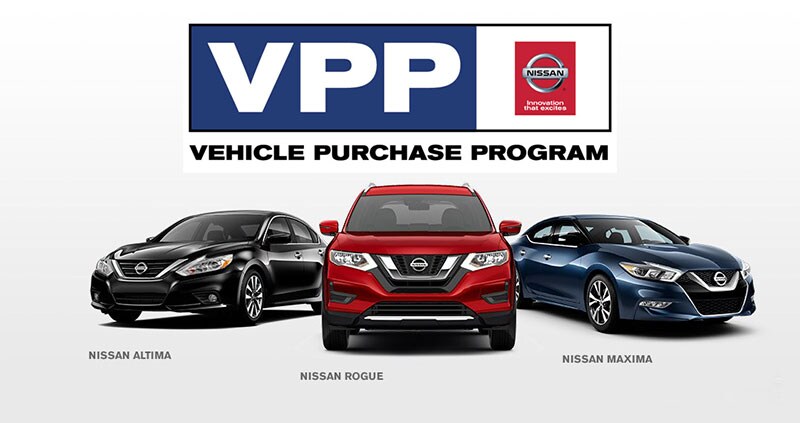 What is VPP?
The Nissan North America Vehicle Purchase Program (VPP) enables you to purchase a new Nissan vehicle at a discounted, pre-negotiated price, and it makes the process virtually hassle-free. As a valued Nissan North America business partner, Fletcher Nissan is pleased to offer the benefits of our VPP discount to your entire organization.*
Who is eligible?
Direct, full-time employees of Nissan North America, Inc. (NNA) and Nissan affiliate companies. Retirees of NNA and affiliate companies who have received normal, early or disability retirement, and surviving spouses of such retirees. Immediate family members of the above people, including spouse, parents, spouse's parents, children (including sons- and daughters-in-law and step children), and siblings (including brothers- and sisters-in-law, half-brothers, half-sisters, step-brothers and step-sisters). Participants must reside in the continental United States, Hawaii or Alaska.
Which Nissan vehicles qualify?
All new Nissan vehicles except the Nissan GT-R.
What is the offer?
Below invoice pricing on every new Nissan in stock
What do I need to bring with me?
Please remember to bring the following items:
·        Valid driver's license
·        Insurance card for proof of ownership
·        A copy of your company current paycheck or HR letter head is required to verify proof of employment.
How do I claim my offer?
Fill out the form below. Pick out your next Nissan. Stop by the dealership and Identify yourself as a Nissan VPP Customer and select your new Nissan!
*Offer is transferable within the same household with proof of residency. Non-transferable to other family members or friends outside the household. See a participating Nissan Dealer for official program rules and eligibility.
Make an Inquiry